For-Most
---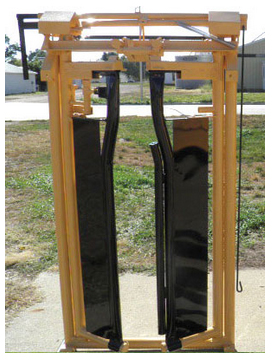 A-25 & A-25T Automatic Self-Catching Headgate
The A-25 and A-25T are excellent headgates for one-man cattle handling, allowing the operator to be behind the animal while it catches itself.
Spring assisted gates automatically return to the catch position when the release control rod is reversed. The control rod allows you to release and prod the animal from behind for exit.
A positive tie rod synchronizes the doors, eliminating troublesome chains or cables.
Fully opening doors provide a wide exit and help prevent animals from stumbling or jumping when exiting.
Two simple neck and head adjustments allow you to change from large to small animals in a few seconds.
Controls can be switched from right to left hand in a few seconds to match your site requirements.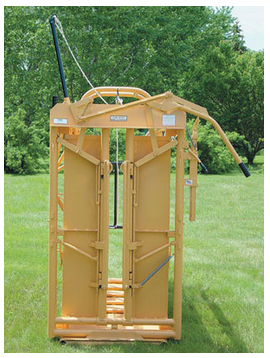 Model 30 & 30T Heavy-Duty Manual Headgate
The Model 30L manual headgate is ruggedly built to handle small calves or your largest bull. This headgate has earned the reputation as the toughest, most dependable headgate in the industry. Now available with optional neck bars and a manual headsweep to control the animal's head movement. Working on the head and neck area of cattle has never been easier.
Parallel opening doors and a low step over help prevent a downed animal from choking.
Gate closes down to 3" to hold small calves and latches up to 18" to hold your largest bulls.
A unique hinging system and slides push dirt and manure to the outside with each opening, eliminating build-up and door jams.
Improved positive ratchet lock not affected by weather conditions.
Fully opening doors provide a wide exit and prevent animals from stumbling or jumping when exiting.
The Model 30T has 6 more inches of gate clearance height and a beefed up control handle for working large bulls, taller exotics or bison. Specify left or right handle control (from rear of chute) when ordering.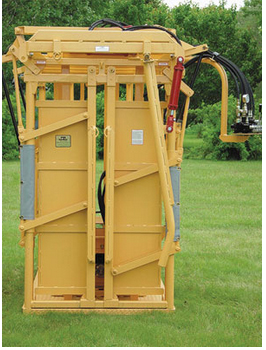 Model 75 Hydraulic Headgate
The Model 75 Hydraulic Headgate features "Complete Parallel Closing Action" top-to-bottom, eliminating possible choking and providing a clean, wide opening for cattle to exit the headgate without injuries. These two benefits alone are reasons this headgate will pay for itself time and again while cheaper scissor type headgates will end up costing you more money because of injuries to your valuable cattle. Removable Neck Bars come standard to help stabilize the animal's head. Add the optional headsweep to virtually eliminate any head movement. Quiet opening and closing action makes working with this headgate very enjoyable.
Factory presets hydraulics to 450 PSI on the animal's neck to prevent injury.
Headgate shields slide closed parallel with equal pressure top to bottom to prevent downed animals from choking.
Fully opening doors provide a wide exit and help prevent animals from jumping or stumbling when exiting.
Removable neck extenders that provide a firm hold for implanting are standard.
One-hand controls for easy operation - no manual labor required.
Heavy-duty construction withstands heavy feedlot use.
Quiet opening and closing action.
An optional headsweep controls the animal's head movement for easy implanting, ear tagging, etc.
Simple yet effective design eliminates costly repairs.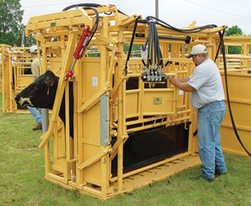 Model 750 Hydraulic Squeeze Chute
The Model 750 is the first hydraulic chute designed so the chute sides close completely from top to bottom instead of the scissor-type action currently available. A "live" bottom is naturally built into the closing action of the chute. The operator controls how hard cattle hit the headgate by limiting the chute width, significantly reducing the risk of bruising. This is a great chute for feedlots, sale-barns, cow-calf operations and veterinarians. Options include 3-gauge wire flooring, removable brisket bar, reversible headsweep, palpation cage, "headgate" style tailgate, Tru-Test weighing systems and portable or stationary models. Neck access doors available.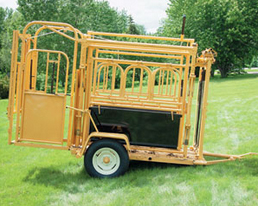 Squeeze Chute
Both sides of the chute swing in or out for complete access to the animal and three-way sorting. Vertical restraining pipe allows the chute to be used as a grooming, milking or nursing chute. A ratchet bar for squeezing the animal is mounted on the left door. A sliding tailgate locks down and is rope actuated. Wood floor furnished by the customer slides into the floor mounting channels. Optional palpation cage and 3 point hitch.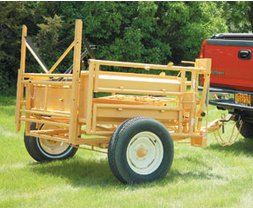 Small Animal Tip Chute
The For-Most small animal tip chute features a rugged self catching headgate. This allows the operator to be behind the animal and have the animal catch themselves with little or no assistance. This chute is designed to handle calves, sheep and goats with less stress on animal and operator. The For-Most small animal tip chute is heavy duty enough to handle small animals up to 450 pounds. The tip chute has a bottom width adjustment from 5 to 9 inches. T­he table is also equipped with a friction type squeeze to get a firm hold on any size animal. The headgate and tailgate can be mounted on either end, allowing for left or right tipping.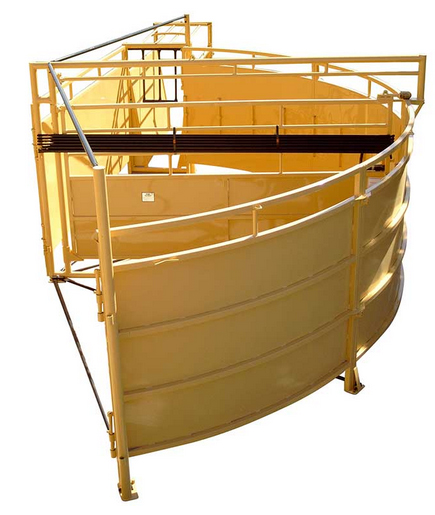 Crowding Tubs
For-Most crowding tub and alley systems consist of individual components that can be configured into almost any design that will accommodate your needs. Our support staff will help you design a system that will meet your needs and provide the optimal handling environment. Study our features and you will discover that a well thought out system will pay for itself many times over. Inferior systems will end up costing you more in the end due to inefficient flow, added stress or injuries to your cattle and your help, or they just aren't built to last like For-Most. The full (4 curved) tub is completely reversible clockwise and counter clockwise sweep to fit your needs. Tub is also available in 5, 4, 3, 2 curved sections. Stationary tub panel is also available in 10, 8, 7, 6, lengths. Tub and alley panels feature rugged construction with 2 3/8" 10-gauge round tubing and 1 1/2" 14-gauge square tubing throughout, giving you a product that will last for many years. Complete your working system with a For-Most chute for the ultimate in cattle handling equipment.
---