EasyWay Cattle Care
---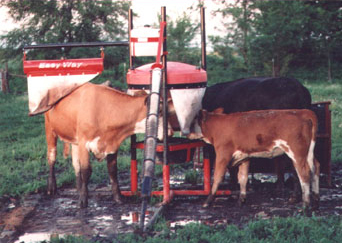 Cattle Saver System
The EASY WAY face fly fighter, mineral feeder and cattle scratcher, aids in the control of face and horn flies, mosquitoes, lice and other pests. Features a heavy pipe stand, large rubber mineral tub, large see-thru supply tanks for easy refilling. The Cattle Saver also has long lasting nylon curtains, is adjustable for large and small animals and can be accessed from all sides. Units are available with 1, 2 or 3 scratchers to fit your needs. Features a heavy case hardened chain and has solid rub rings, no wear points, top or bottom, and heavy duty self adjusting pull spring. Maintenance is kept to a minimum. Farmers choose the Cattle Saver to reduce pinkeye, eliminate parasites, increase gains, treat the entire herd at one station, apply chemicals evenly and for its easy adjustment.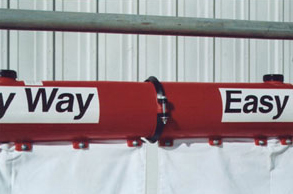 Walkway Oilers
Available in 3, 6 & 9 Foot Models
3' Walk-Way sections connect together to form any length by 3
Help control face flies, horn flies, mosquitoes, ticks, lice and other parasites
Units are portable or can be mounted in doorways, gateways or between posts. Available with or without stands.
All wick fed and completely automatic with no moving parts
Curtains apply insecticide evenly along backs and faces of animals.
Works on large and small animal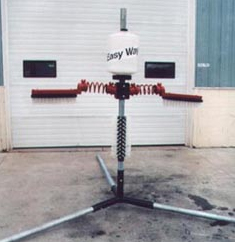 Brush Oilers
A uniquely constructed combination of the cattle oiler bursh with a curtain inside the brush, to spread the insecticide evenly over the full length of the brush. Your cattle will love it! As they rub, the insecticide is applied evenly. It will keep them clean and well gloomed, and helps control flies, lice, ticks, and all other external parasites. The Easy Way Brush Oiler can be easily mounted anywhere - on posts, trees or the Easy Way Mineral Feeder and Face Fly Fighter. Available also with a stand.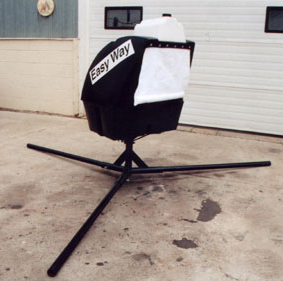 Mineral Feeder
The Mineral Feeder and Face Fly Fighter not only keeps the salt and minerals dry, it also helps control: Flies, Lice, Ticks and Mosquitoes. These feeders also help reduce the spread of pinkeye and other cattle diseases. The mineral feeder comes with its own stand or in a hanging model. The face fly curtain is wick fed and automatically keeps the curtain charged with insecticide. It will work on cows and calves, in the pasture or lot. The tub and tank are made of high density poly and will withstand extreme heat or sub-zero temparatures.
---