ArrowQuip
---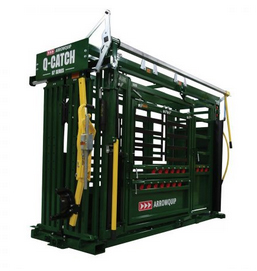 Q-Catch 87 Series Cattle Squeeze Chute
The Direct Drive head gate technology provides rapid head gate response, while the 3E Head Gate draws cattle into the chute to prevent stops in the flow of cattle through the system for increased efficiency. When combined with the 87 quiet points found from front-to-back, enhanced heavy-duty frame, and modifications throughout that are designed to make cattle handling as easy as it can possibly be for you, this chute can't be beat. All of this is backed by the industry's longest and most extensive 7-Year, No Bull Warranty. No matter where you look, you won't find a better investment than the Q-Catch 87 Series cattle chute.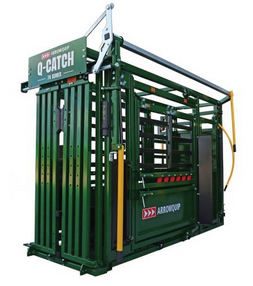 Q-Catch 74 Series Squeeze Chute
The Q-Catch 74 Series is an efficient and economical chute that makes managing cattle easier on you. With features inspired by the world-famous Q-Catch 86 Series, you know you are getting a chute you can trust. Key elements include our auto-locking mechanisms with lifetime guarantee, unmatched access points, and user-friendly operation handles. All of this is backed by our exclusive 7-Year No Bull Warranty and crafted with the high-quality construction only Arrowquip can provide.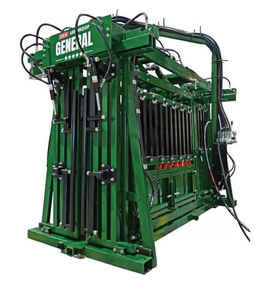 The General Hydraulic Chute
This chute is the culmination of 17 years of research, design, testing, and innovation by the Arrowquip Team. The result is a chute that is reliable enough to take the big numbers of livestock seen in feedlots paired with the access that cattle farmers need to complete their management tasks. The General is the widest chute in the Arrowquip lineup, measuring 31.5" interior width from top to bottom for the biggest bulls and mama cows to enter the chute with ease, and features a 3-way squeeze design that has never been seen before to provide handlers with the option to process cattle any way they need to.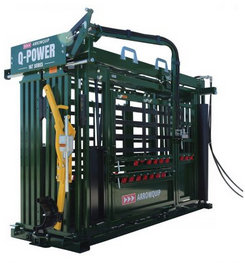 Q-Power 107 Series Cattle Chute
The Q-Power 107 Series hydraulic cattle chute isn't just called "silent" for the sake of it. The 107 delivers a virtually silent cattle handling experience with over 107 quiet points from front-to-back. Every inch of the chute has been optimized with new features that include poly coated slam latches, nylon head gate rollers, and additional poly bushings to eliminate metal on metal contact and minimize noise at every turn. For enhanced durability, our team of engineers have reinforced the structural frame to now include the massive 2" x 6" and 3" x 3" beams seen on our portable units. Paired with upgrades to the hydraulic cylinders and connections for faster response with the lightest touch of the controls, so you can trust that your chute will perform reliably under any conditions.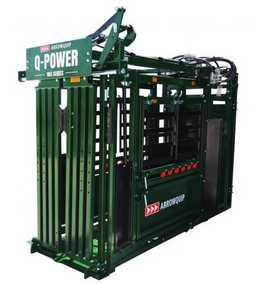 Q-Power 104 Series Hydraulic Squeeze Chute
Enter the Q-Power 104 Series, the hydraulic squeeze chute that any operation can use to boost their productivity and get the job done right every time. Offering all of the access you could possibly need, solid construction, and backed by the best hydraulic squeeze chute warranty available, the Q-Power 104 Series is the only ranch hand you'll ever need. Based on the needs of your operation, the Q-Power 104 Series is available in two models - the compact and highly cost-effective Standard Model, and the Deluxe Vet Model that includes a palpation cage attached to the chute.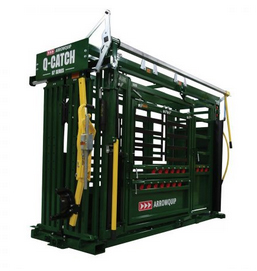 Q-Catch 87 Series Portable Cattle Chute, Alley and Tub
The NEW Q-Catch 87 Series portable cattle chute, alley and tub features Arrowquip's signature cattle handling components in a compact and convenient portable unit. Available in multiple options, the new lineup of Q-Catch 87 Series portable cattle handling equipment provides ranchers with the flexibility to get the job done, no matter where it needs to happen. Taking portable cattle handling to the next level, Arrowquip has introduced a new option, their very first FULL portable system. This new model features an 18' alleyway to improve the way cattle flow through the system. Combining these two cradle-shaped Easy Flow Alley sections with the low-sheeted tub and Q-Catch 87 Series cattle chute that feature our patent-pending 3E components will ensure cattle will flow through your system with ease.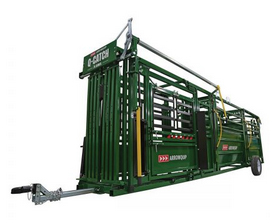 Q-Catch 74 Series Portable Squeeze Chute, Alley & Tub
The Q-Catch 74 Series Portable Squeeze Chute, Alley and Tub is a full working system built for efficient cattle handling in any pasture. Featuring the Q-Catch 74 Series cattle chute, an 8' Easy Flow adjustable cattle alley section, and an 8' crowding tub, this portable cattle handling system provides you with all that you need to get the job done anywhere, anytime. The enhanced frame and improved portability are key items that make the Q-Catch 74 Series stand apart from the competition. With an adjustable hitch, two manual jacks, and an improved collapsible tub design, setting up this portable handling system can be done in just five minutes.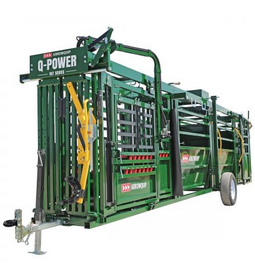 Q-Power 107 Series Portable Hydraulic Chute for Cattle, Alley & Tub
Arrowquip's NEW Q-Power 107 Series Portable Chute for Cattle, Alley & Tub is up to any task you throw at it. Rapid response hydraulics are mounted on the improved pivoting control arm that gives you the freedom to operate your chute from any point on either side. The impressive towing setup features a redesigned collapsible tub that is shorter than before, making towing the unit easier than ever, even with the 18' Alley model. Our patent-pending 3E technology is used throughout the unit, and every component of this portable cattle handling system is designed to improve the efficiency of your operation.
---