Weldy Enterprises
---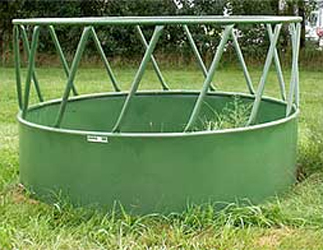 Round Bale Cone Feeder
Our R7C Round Bale Cone Feeder came out first in Michigan State University tests. This cone feeder was found to be the most efficent, having less waste, therefore saving the most money for farmers on feed costs. Minimize waste with slanted bar design and solid hay saver panels. R6C-Cattle and the R6C-Calf Cone Feeders are based on R7C design. Our newest design based on the R7C is the R6C-Sheep feeder. Sturdy, long lasting, and built at the right height for sheep.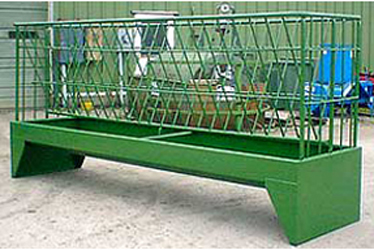 Feed Bunks
Features a deep side and rounded bottom to give large capacity. A 2" turned in top edge gives extra strength and helps prevent feed waste. A heavy center brace ties the feeder together and full depth steel end add to the feeder's life and strength.
Feeder Wagon
Designed to feed silage, green chop, large round or square bales. The 3/4? exterior plywood is 4ft. high and is easy to remove for feeding large round bales. The "V" in center promotes feed-down within the reach of the animals. Equipped with a telescoping tongue and 11 L15 8-ply tires and tubes. Trough height is 24?.
---