CanArm
---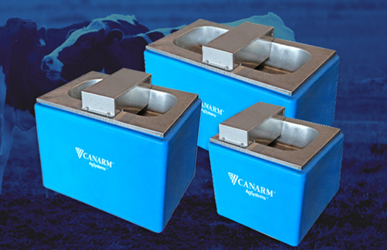 Heated Poly Waterers
Made from durable poly with a seamless stainless steel bowl which will never rust, our Poly Waterers will save you money with superior R value (R18) and a thermostatically controlled heating element with adjustable thermostat. Available in multiple sizes from a small economic model sufficient for 25 cattle up to a large model for 100 cattle.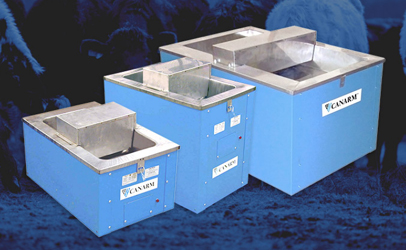 Heated Livestock Waterers
The HLW features a strong double wall design made from steel with 2" of foam insulation (R15) and a Thermostatically controlled heating element with adjustable thermostat. PAMI testing rated some models to be almost 3 times more energy efficient than competitive models tested at the time. Available in multiple sizes from a small model sufficient for 50 cattle up to an extra large model for 200 cattle.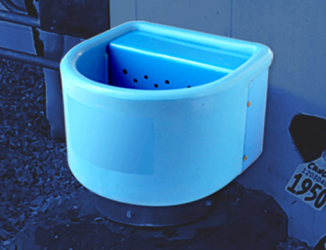 Aqua Bowl Livestock Waterer
Equipped with a heater, thermostat and infeed line heating wire, the Aqua Bowl is sized for groups in the field or individually in stalls. Convection circulates the water to efficiently prevent freezing and the font replenishes quickly to eliminate icing. Heavy duty double walled poly and a versatile shape allows the Aqua Bowl to be mounted indoors and out, and to fit snugly into an upended culvert or mounted with a wall bracket.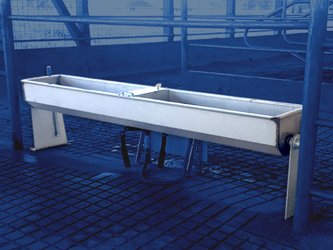 Tippable Water Troughs
Maximize your dairy cows water intake with large water troughs providing easy water access. Made from high quality, durable, heavy gauge stainless steel, the water troughs are tippable and automatically refill to easily keep water fresh. Available in 4ft, 6ft, and 8ft lengths. Custom sizes also available to suit your needs.
---